Latest News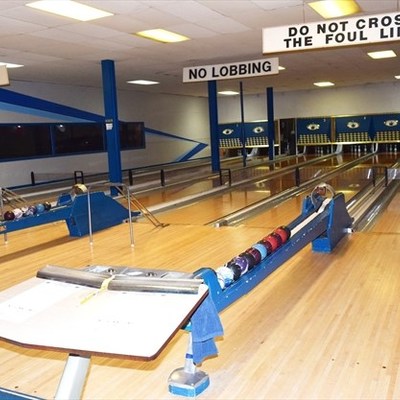 Carleton Place bowling facility under new ownership
Ashley and Christine and Walrond are the owners of Chasin' Turkeys Bowling Alley in Carleton Place.
The husband and wife purchased the longtime business, formerly known as Visions Bowling Centre, from Mike Sears, taking possession on June 22.
"The idea came from wanting to have a place where people can get together and unplug," Ashley explained. "We are all so focused on our devices ... come hang out and chat."
According to Christine, "the bowling alley was not specifically the draw."
She noted: "Ashley has wanted to own his own (business) for a long time, going down many avenues and writing many business plans. This opportunity came up and it just made sense."
Christine's background is real estate, with Ashley doing software sales.
Located at 51 Bridge St., Chasin' Turkeys Bowling Alley opened at the end of July.
"We were closed for about three weeks, doing renovations," Christine noted. "It was a messy job, but it is done."
The smoke eater is gone from the wall, along with the old ceiling tiles and tiki bar.
"We cleaned, painted and added LED lighting," Christine said, and "we refaced the front of the bar."
Other changes will happen over time, including the possible addition of televisions.
"We love Mike, and we love what he did for this community," Christine stated. "We just wanted to update the bowling alley — modernize it."
Chasin' Turkeys Bowling Alley is a five-pin bowling alley and fully licensed event facility. There are six lanes to choose from, along with a separate party/meeting room.
"It can be rented out for many different occasions: birthday parties, family events, work parties, team building experiences and much more," Christine said.
The biggest use thus far is birthday parties, with packages starting at $200.
Where did the Chasin' Turkeys name come from?
"A turkey is three strikes in a row," Ashley noted. "Also, it is a play on words ... let us chase after your little turkeys during birthday parties."
Chasin' Turkeys Bowling Alley is open seven days a week. Hours of operation are as follows: Monday from 6 to 9 p.m., Tuesday from 11 a.m. to 9 p.m., Wednesday from 11 a.m. to 9 p.m., Thursday from 11 a.m. to 7 p.m., Friday from 11 a.m. to 9 p.m., Saturday from 10:30 a.m. to 7 p.m. and Sunday from 12 to 5 p.m.